Project Statement
The Arc of Summer
is a collection of Polaroid prints that I began in 2012 and remains in progress. It aims to celebrate the ethereal world of childhood, the waxing and waning of summer and the wild desire to remain in its embrace. These images were made with my family near our historic cabin set deep in the woods of South Carolina. Here…. we weave our southern family history into the present to create our own mythology.
Ark Lodge, our cabin of refuge, is a place where
time stands still
. While the cabin itself was built over 70 years ago, it rests secluded in a landscape that has managed to escape modernization for centuries. Whenever we arrive, we instantly slow down, breathe deeper and become enveloped into its hauntingly, beautiful presence. This is especially so on long summer days when it is unbearably hot, humid and buggy. Somehow we have all learned to quiet our minds and move only in small increments to maintain as much
coolness
, as we can. Consequently, these slow actions deepen our awareness of our surroundings. We automatically loose our sense of time, and it can sometimes feel as if we are floating in and out of dream world.
I was led to use Polaroid as medium for this project because each image immediately becomes an object of experience. There is a certain level and quality of intimacy I am looking for in creating my images. Polaroid provides me with one-of-a-kind imperfections that evoke a familiar and nostalgic vulnerability. They're magical. Despite their smallness, they can contain the uncontainable and reveal a universal humanness. – Jen Ervin,
Ark Lodge, Summer 2016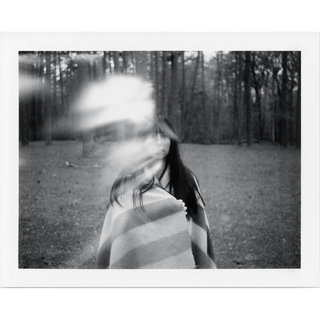 Artist Biography
Jen Ervin is a non-native southerner. She was born in northern New Jersey and moved to the south in her formative years. She received her BA in Fine Art from Francis Marion University in 1995 and her
MFA
in Graphic Design from Boston University's School of Visual Arts in 2002. Ervin was a studio artist at the Redux Contemporary Art Center from 2011-2013. It was during this time, she began her Polaroid series, "The Arc of Summer". Ervin has actively exhibited her work in galleries and museums alongside notable photographers such as Sally Mann, William Christenberry, William Eggleston, Andy Warhol and Susan Worsham. Ervin is a 2016 Critical Mass Finalist. Recent international publications include Time Lightbox, Feature Shoot, Don't Take Pictures, Aint-Bad Magazine, Phases Magazine, Graine de Photographe, Fotopolis.pl and Light Leaked. Ervin currently resides in Charleston, South Carolina with her husband, Francis, and their three daughters.
Connect
For more information, please contact the artist at:
jenervin5 at gmail dot com
A select group of limited edition prints are available through the
The Southern Gallery
, 2 Carlson Court, Downtown Charleston, SC.
Visit Jen Ervin's Blog –
Souvenirs From a Dream